Safety Measures at City Charter High School
In order to ensure a safe and supportive environment for learning, City Charter High School has developed various measures to protect all students and staff from harm.
Facility
City Charter High School maintains a safety plan that is unique to our multi-use building and aligned with best practices established by the Pennsylvania Department of Education.

Our facility safeguards include:
Ballistic Glass Lobby
ID-Secured Entrance
Emergency Panic Buttons
82 Monitored Cameras
EMERGENCY Panic Switches on every floor
EMERGENCY Panic Switches in every classroom
City Charter High School has had numerous safety assessments completed by the Pennsylvania State Police, Pittsburgh Emergency Management and the Department of Homeland Security.

In addition, City Charter High School and local law enforcement have a very strong partnership. Pittsburgh police officers regularly visit our school. Several programs have been developed in cooperation with the Pittsburgh Police to build relationships. These programs include; Lunch with an Officer and Cooking with Cops. Because of the overwhelming success, future programs are in development.
Weather Emergencies
Weather Emergency/Snow Day Update

City High does NOT follow the Pittsburgh Public School weather emergencies schedule. Please listen to your radio and/or television for the City High delay or closing announcement. The City Charter High School closing or delay announcement will appear on television channels (KDKA), (WTAE), (WPXI) and on their websites. The school closing, delay and early dismissal announcement will also be available on our website— www.cityhigh.org and on the PARENT PORTAL.

Parents/guardians and students can choose to receive emails, text-messages or voice-mail notifications as well.

Delays: If there is a two-hour delay, school will begin promptly at 10:00AM. Students should not arrive at the school before 9:00AM.

Closings: If a closing is announced, students will complete the school day in our asychnronous, virtual learning model. Students will be required to complete assignments for each class. All assignments will be due at 11:59pm on the day of the closure. Teachers will be available to work with students between the hours of 8:30am-3:00pm.

Early Dismissals: If an early dismissal should ever be needed due to the weather, students will be given an opportunity to call home by using our phones or their cell phones. However please keep in mind that this decision will need to be made quickly and will be dependent on the advice of the Pittsburgh Public Safety Department. We will not follow the Pittsburgh Public Schools in making this decision as the downtown area is a unique situation and we need to be aware of different transportation issues.

PLEASE MAKE SURE YOUR SON/DAUGHTER KNOWS WHERE TO GO AFTER SCHOOL IN CASE OF AN EMERGENCY AND IN CASE YOU CANNOT BE REACHED.

SUBURBAN STUDENTS: For families who live far from the downtown area, please use good judgment and make the decision as to whether to send the youngster to school based not only on the official announcement but also on your actual weather conditions, as they may be better or worse than the conditions in the city. An absence note will be necessary if your student remains at home on a day we are open. Suburban students may also be sent home earlier than city students if the weather conditions deteriorate during the course of the day.
General Safety and Security Measures
All students and staff have been trained in ALICE (Alert, Lockdown, Inform, Counter, Evacuate) techniques by our certified ALICE Instructor.
All classroom doors can be locked from inside with a key. In August of 2018 City Charter High School installed Lockdown devices on all classroom and office doors within the facility.
City Charter High School requires that all exterior doors remain locked during the school day.
Via an outdoor video intercom system, visitors to City Charter High School are required to provide their identity and reason for visit.
A school safety officer staffs our secure lobby. Visitors are not permitted access to the school without providing a state issued ID for clearance through the school's Raptor background check system.
City Charter High School is equipped with panic switches in all school hallways that alert safety officers and administrators immediately when activated. There are also panic switches that allow school administrators to quickly and quietly alert authorities to emergency situations.
City Charter High School maintains surveillance 24/7.
All classrooms and offices have a quick-reference guide that covers various emergency situations.
City Charter High School maintains our safe, supportive school environment by providing school-wide behavioral expectations, caring school climate, positive interventions and supports development.
Enhanced Anti-Bullying Policy
All forms of bullying are violations of the Student Code of Conduct and taken seriously. Each year, the City Charter High School Bullying Policy Committee reviews our policy to ensure it is continually updated and enhanced. Our strict anti-bullying policy applies to all activities in school, online (cyber bullying), during a school sponsored event or activity and while a student is in transit to/from the school.
Broadly speaking, bullying is any act that intentionally causes injury or physical, emotional or mental discomfort. Some examples of non-acceptable behavior include:

Physical contact, assault, name calling, etc.
Threatening behavior, including intimidation, pranks and taunting
Spreading rumors and engaging in any form of electronic bullying or social cruelty, including texts, IMs, chat rooms, etc.
Posting sensitive, private information about another person
Hazing (recklessly endangering health or safety related to an initiation or admission to a group)
Emergency Procedures
We have made preparations to deal effectively with emergency situations that could occur in or around the school while classes are in session. While we hope that a natural disaster or other serious incident never occurs, our goal is to be as prepared as possible for any potential emergency.

No matter what the circumstance, the entire staff will remain with the students and work diligently to reassure them, keep the calm, give them a forum for discussion and otherwise provide support to them. It is imperative that you emphasize to your youngster that the directions of school employees must be followed at all times. Students who panic, leave the group or refuse to cooperate jeopardize the safety of themselves and others.

WE WILL UNDER ALL CIRCUMSTANCES FOLLOW THE DIRECTIONS OF THE PUBLIC SAFTEY DIVISIONS OF THE CITY OF PITTSBURGH AND ALLEGHENY COUNTY. WE WORK CLOSELY WITH THEM AND THEY WILL NOTIFY US OF ANY PROBLEMS.

Our School Safety Office is located onsite and is staffed throughout the day. In addition, the Office of School Safety maintains a 24/7 emergency phone line at (412) 690-2489 ext. 1991.
Parent Emergency Procedures
In order for our emergency plans to be effective, we must depend on the assistance of local police and fire departments. We also depend on the parents of our students to support efforts. Your cooperation is critical in helping us protect our students and staff. Therefore we ask parents to observe the following procedure(s) during a crisis situation:
Do:
Check for a call from City Charter High Schools Notify System. A phone call, text and email will be sent from City Charter High School to notify parents of an emergency.
Keep your contact information updated with the school.
Remind your children. It is very important that they follow instructions from their teacher in an emergency.
If you see something, say something and encourage your children to do the same.
Don't:
DO NOT COME TO THE SCHOOL OR EVACUATION LOCATION UNTIL YOU ARE INSTRUCTED TO DO SO. It will be necessary to keep the streets clear for emergency vehicles. In addition, during a lockdown NO ONE is permitted to enter or exit the school building.
DO NOT CALL THE SCHOOL. We understand you concern, but it is essential that the phone system be available for emergency communications.
Evacuation of the Building
If the evacuation is before 2:00PM, we will take our students to another facility remain there until 2:00 PM at which time they will be dismissed to go home. Once there, students will split into their advisory groups. Advisors will permit students to call home and will attempt to speak briefly to each parent. It may be necessary to send students home before 2:00PM. In that case notification would come from radio and television broadcasts.

If the evacuation is after 2:00PM, we will dismiss students to go home. It is important that students carry with them at all times the PAT bus schedule for their routes and also for alternate routes. They also need to know the location of several bus stops located in the downtown area that are part of their route.
Lockdown of The Building
If we are told that we must remain in the building, the following will occur:

Staff will stay on the school floors with students. The city has informed us that the maximum period for lock down would probably be 8 hours. Parents will be immediately notified in the event of a lockdown. If possible and if allowed, we will post lock down information on both the City High website and on the PARENT PORTAL. During an emergency, please limit calls into the school or to your child's cell phone. Incoming calls hamper our ability to maintain order and to help students remain calm. In addition they will prevent us from calling out and notifying every family.

NO ONE IS PERMITTED TO LEAVE OR ENTER THE BUILDING DURING A LOCKDOWN.
Evacuation of The Downtown Area
Should a mandatory evacuation of the downtown area be declared, Port Authority, Allegheny County and Pittsburgh Emergency Management has a plan in place to immediately transport thousands of people safely out of the city. Depending on the circumstances, one of the following three levels of the emergency plan will be implemented:
Level One—Voluntary Evacuation: If ordered Port Authority will provide the highest level of bus, rail and incline service at regular downtown bus stops and rail stations.
Level Two—Mandatory Partial Evacuation: If ordered every available Port Authority bus and rail vehicle will be dispatched to downtown. Regular buses and rail stops will be served where possible, once leaving Downtown Pittsburgh buses will transport passengers outbound using only main transit and highway arteries. Buses will discharge passengers along the main routing and will continue until the last passenger is discharged.
Level Three—Mandatory Full Evacuation: In the event of a declared mandatory emergency evacuation that prohibits buses from entering downtown Pittsburgh, six perimeter locations have been established. Individuals will board buses at perimeter locations, then discharge at "remote drop-off locations" predetermined by Port Authority, Allegheny County and Pittsburgh Emergency Management.
It is important that you and your student fully understand this plan. It is also extremely important that all students know their community well enough to find their home from a radius of at least two miles. Students should carry change with them for pay phones, keep comfortable walking shoes or sneakers in their lockers, be aware of places in the community where they can meet you, other family members or friend and again listen to the directions of adults so they can get as close to home as possible. Cell phones may or may not work in all situations as the circuits may become busy. If this were to happen, we may have to act very quickly and may not be able to call every parent. However, you will be notified through the news media, phone answering system and our website.

Please make sure that students who have asthma have inhalers with them at all times. Students with other chronic medical conditions need to keep some of their medication in the nurse's office so it is available for all emergencies.

It is impossible that we can prepare for every possible circumstance at home or at school. However, we will do our best to help students be safe and to care for them physically and emotionally in any time of crisis.
Emergency Drills
Fire Drills
City Charter High School will have at least one fire drill per month. These drills are conducted to promote safety and familiarity with the evacuation procedures in the event of an emergency.

Students are required to evacuate the building quickly and quietly following the directions of school staff. Compliance with the fire drill procedures is a must during these safety evacuation practices.
Emergency Evacuation Drill
City Charter High School will have at least one emergency evacuation drill each year. These drills are conducted to promote safety and familiarity with the unscheduled evacuation procedures in the event of an emergency. Students are required to evacuate the building quickly and quietly following the directions of school staff. Students are required to return to the school in an orderly fashion, following the direction of school staff.
ALICE Training
ALICE Training® helps schools, businesses, healthcare organizations and houses of worship better prepare their most valuable assets — their people — to prevent, mitigate, respond to, and recover from a violent critical incident.

At City Charter High School, 100% of our staff and students have received ALICE-Certified Training. In fact, City High is officially an "ALICE Certified Organization," one of only 22 organizations (out of the 3407 schools and 120 charter schools) in the state of Pennsylvania to receive this certification.

The ALICE Certified Organization Certification is only awarded to schools that put in the time to prepare the students and staff, work on existing safety measures, conduct annual audits and, most importantly, provide a safe school environment.


COVID-19 Protocols
CLICK TO ENLARGE
---
Cleaning, Sanitizing, Disinfecting & Ventilation
Cleaning materials are readily accessible to staff and students. Hand sanitizer will be plentiful and available in every classroom and touchless sanitizer stations will be set up throughout the building.
An electrostatic cleaning machine is on site to be used as needed.
Social Distancing And Other Safety Protocols
Grade level community floors–limiting cross-exposure. Students and staff will travel in the same grouping throughout each trimester. They are separated by grade level, which has its own designated floor in the building. Additionally, within a grade, students are divided into three teams. Therefore, students have limited exposure to other students and teachers.
FREE reusable water bottle for all students and staff & touchless water filling stations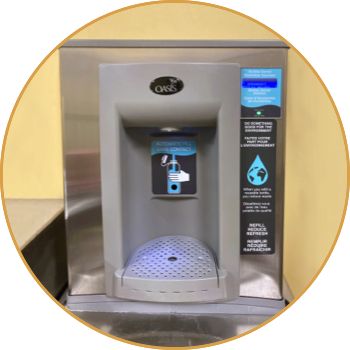 Anonymous Tip-Line
City Charter High School monitors a 24/7 anonymous tip-line that can be accessed three different ways.
Call 1-844-Saf2Say (844)-723-2729
Visit Safe2saypa.org
Safe2Say Something mobile app App is available for download at Safe2saypa.org for both Apple and Android devices.
IN AN EMERGENCY, ALWAYS CALL 911