Alumni Success Stories
City High is proud to share our alumni success paths and stories with the incoming class, prospective parents and the community, which is an integral part of City Charter High School.
City High Alumni, you can also be profiled in a future Alumni Spotlight!
Class of 2007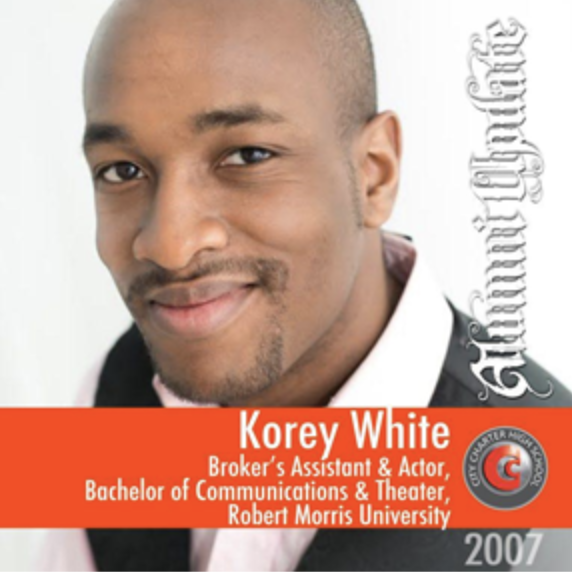 Following His Passion
Alumnus Korey White of 2007, having received a Bachelor's in Communications with a concentration in theater from Robert Morris University—Class of 2011 is currently working as a Broker's Assistant & Actor.

Advice: Don't be afraid to do what you love, but also realize that the more you love it, the harder you're going to have to work. Your teachers can be your best friends or your worst enemies. Only you can make that distinction. They will, however, always be there for you.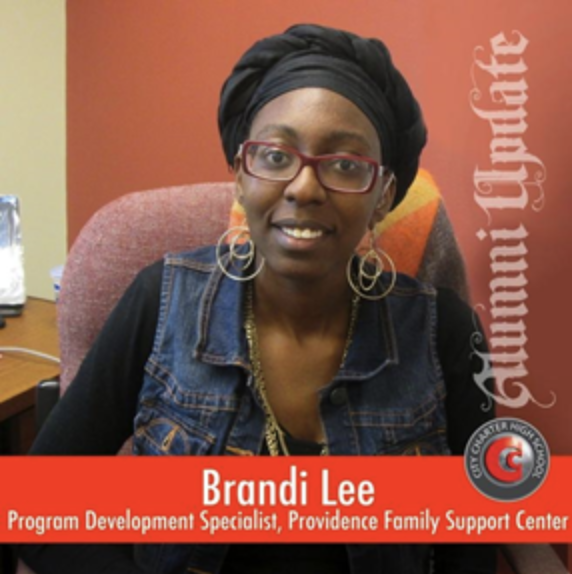 Giving Back
Alumna Brandi Lee of 2007, certified in American Sign Language (ASL) with an Associates of Science degree from Community College of Allegheny County returns the favor as a mentor to City High's 2017 senior Kayla Wilson at Providence Family Support Center #Givingback #Alumni
Class of 2008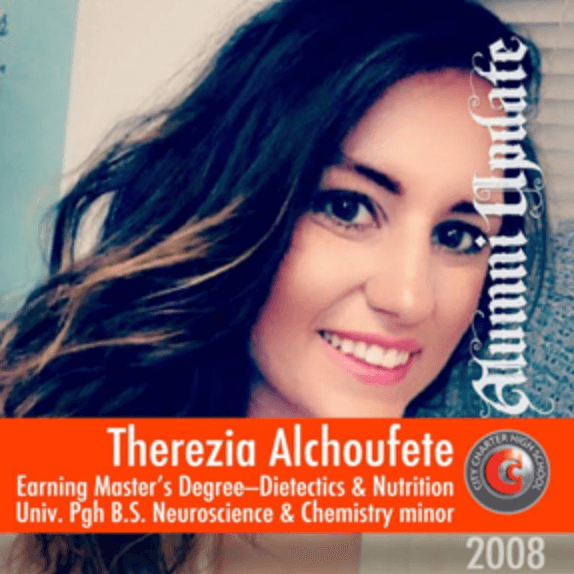 Take Every Opportunity
Alumna Therezia Alchoufete of 2008, with a Bachelor of Science in Neuroscience and a Chemistry minor, also holds a Certificate in Conceptual Foundations of Medicine from University of Pittsburgh, Main Campus.
Therezia is currently earning a Master's Degree in Dietetics and Nutrition at the University of Pittsburgh to become a registered dietician.

Advice: If you can "see" exactly where you will be in 5 years, then you're limiting yourself. Take every opportunity – especially the ones that are outside of your comfort zone. Thinking outside the box will land you exactly where you need to be.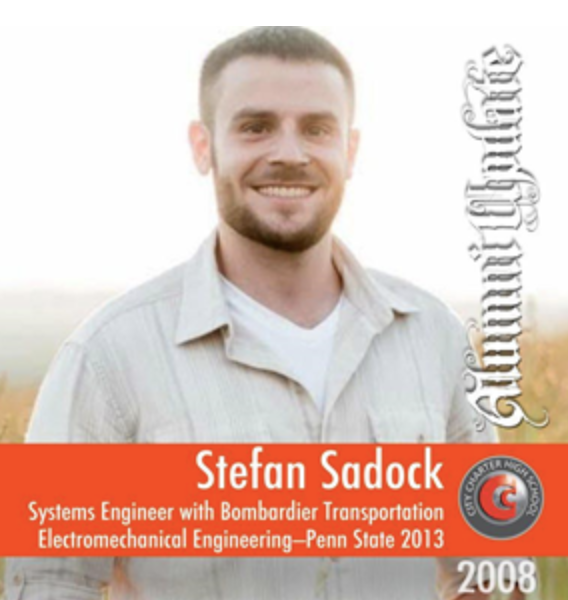 Systems Engineer with Bombardier Transportation
Alumnus Stefan Sadock of 2008 graduated from Pennsylvania State University in 2013 with a Bachelor's in Electromechanical Engineering.

Advice: Set goals, be proactive, take initiatives, and make your dreams become a reality.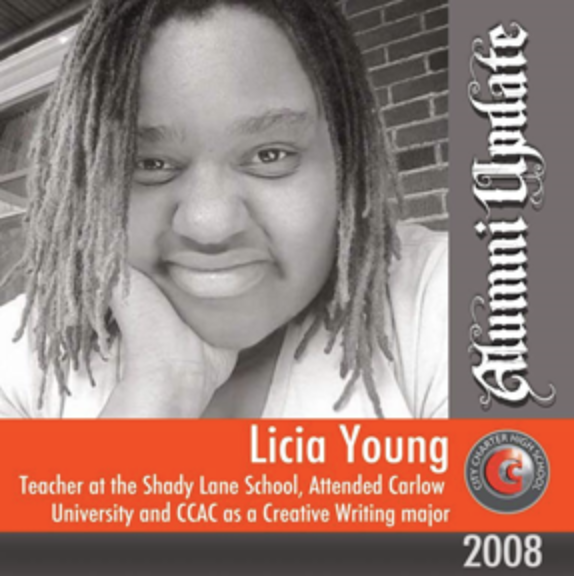 Teacher at the Shady Lane School of Pittsburgh
Alumna Licia Young of 2008 attended Carlow University and Community College of Allegheny County, majoring in Creative Writing.

Advice: Please, please, please stay focused! It's all right to explore and have fun but remember your goals and dreams, and focus on what's important. Being successful and joyous in what you're choosing to do is key. You have to put forth the effort to achieve your goals. In addition, time management and budgeting are essential!
Class of 2009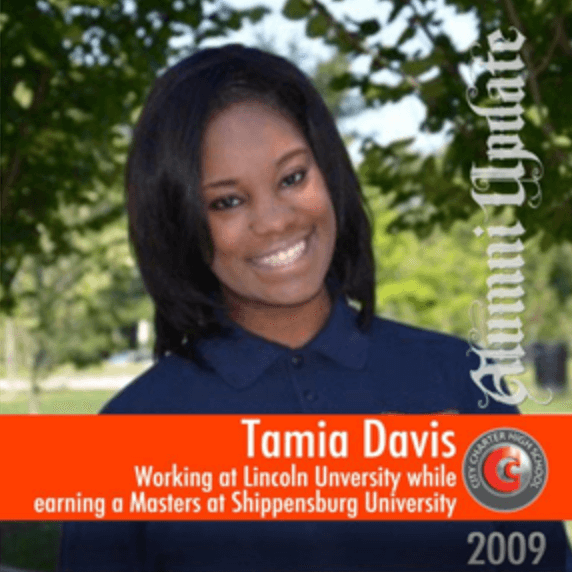 Passion—Higher Education
Alumna Tamia Davis of 2009 with a Bachelor of Arts in Communication from Lincoln University of PA.

Tamia found her passion in higher education and is now working in the Student Affairs Division of Lincoln University as the Resident Coordinator where she oversees the female freshman residence halls. She also works in the Office of Judicial Affairs. Tamia is currently pursuing her Master's Degree at Shippensburg University and aspires to become the Dean of Students at Lincoln University.
Class of 2010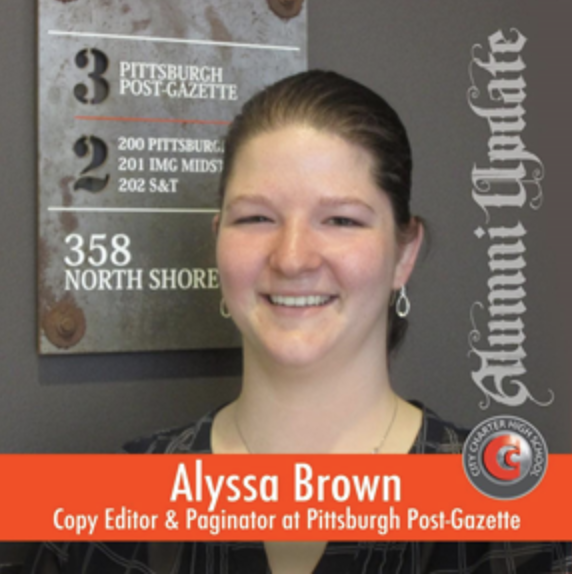 Giving Back
Alumna Alyssa Brown of 2010, returns to Pittsburgh after earning her degree at Wagner College and finishing multiple internships, including the Staten Island Advance and Oprah's O Magazine. Now as a Copy Editor & Paginator at the Pittsburgh Post-Gazette, Alyssa is helping to guide Delaja Evans, from City High's Class of 2017. #Givingback #Alumni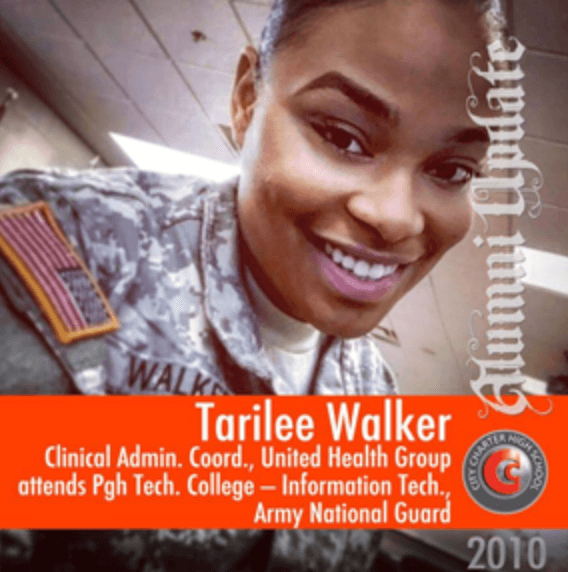 High School Is Your Stepping Stone
Alumna Tarilee Walker class of 2010 and a member of the Army National Guard is a Clinical Administrative Coordinator at United Health. Tarilee currently attends the Pittsburgh Technical College for Information Technology

Advice: Use high school as your stepping stone, whether you go right into Military, College or Workforce. If you go into the Military, school is very important as well as getting in shape and staying in shape.
Class of 2011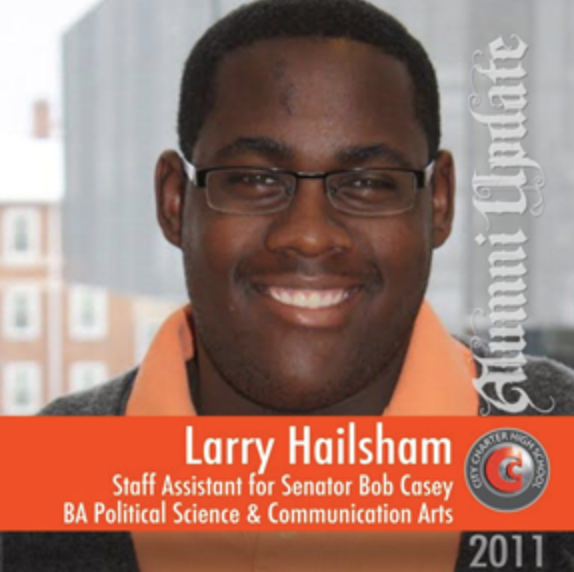 Don't Be Afraid of Asking Questions or Seeking Help.
Alumnus Larry Hailsham of 2011 with a BA in Political Science and a minor in Communication Arts from Allegheny College currently works as a staff assistant for Senator Bob Casey President of Student Government, Community Service Office as a Bonner Service Scholar
Advice: Don't be afraid of asking questions or seeking help regardless of where you are. Some of the most important people in the world are only where they are because they are willing to admit that they don't know everything, and seek help. #Alumni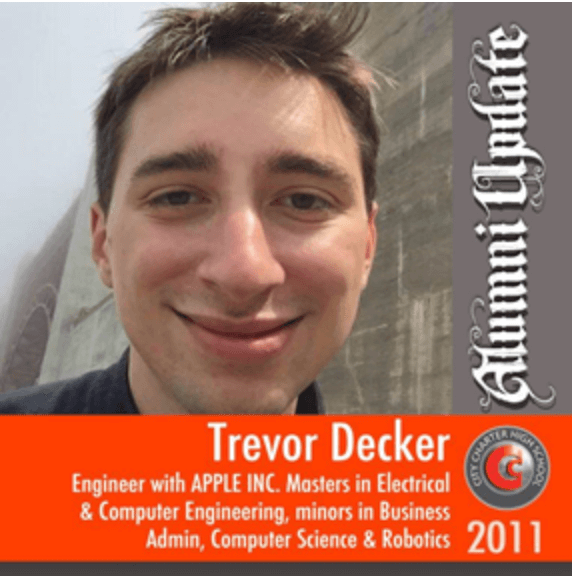 Engineer with Apple Inc.
Alumnus Trevor Decker of 2011 received his Masters in Electrical and Computer Engineering (ECE) from Carnegie Mellon University after finishing his undergraduate degree in ECE with minors in Business Administration, Computer Science, and Robotics from Carnegie Mellon University.

Advice: Find your passion and do everything you can to make that passion your job. It will make you happier.
Class of 2012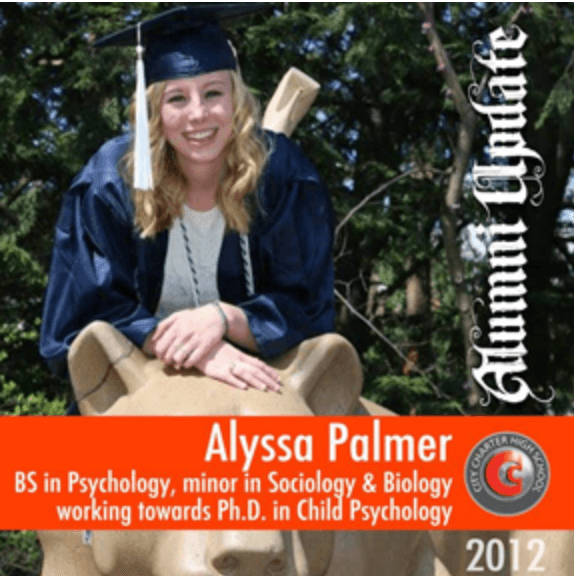 Working towards a Ph.D. in Child Psychology
Alumna Alyssa Palmer of 2012, graduated with a BS in Psychology with minor in Sociology and Biology from Penn State—Class of 2016.
Alyssa is currently attending the University of Minnesota to acquire a Ph.D. in Child Psychology

Advice: Always try to find out what resources are available to you and then USE THEM. There are people and organizations that are there to support you. By asking for a little bit of help or guidance you can get so much farther then you ever did trying to do it alone. #Alumni
Class of 2013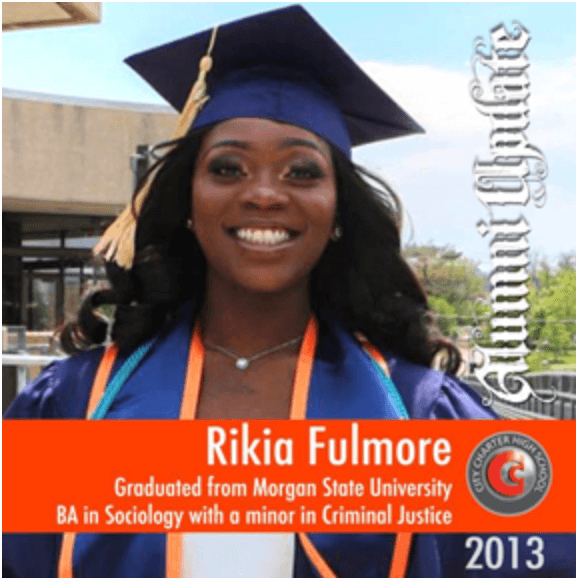 BA in Sociology with a Minor in Criminal Justice
Alumna Rikia Fulmore of 2013 graduated from Morgan Sate University with a BA in Sociology with a minor in Criminal Justice. #Alumni
Class of 2014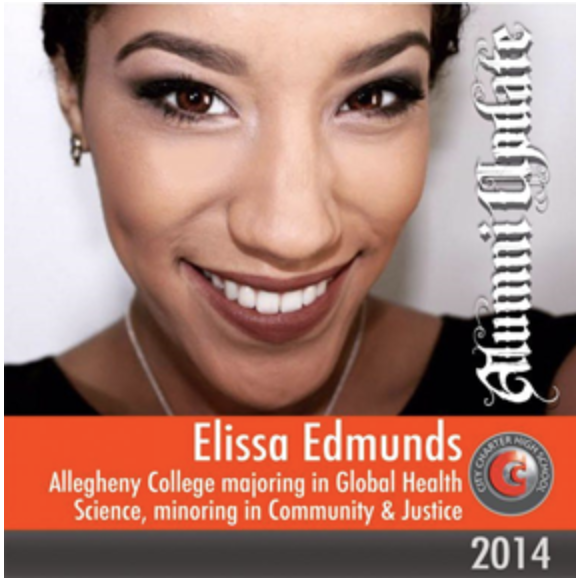 Majoring in Global Health Science with a Minor in Community & Justice
Alumna Elissa Edmunds of 2014 is currently the program coordinator running a children's program in a low-income housing unit for the kids and doing community based research under her professor on health disparities.

Clubs: Advancement of Black Culture, The Bonner Foundation, Kappa Kappa Gamma, lots of philanthropy and service work!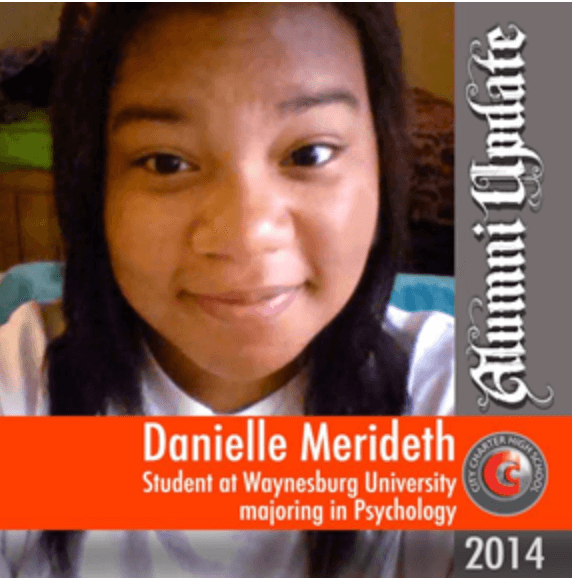 Majoring in Psychology
Alumna Danielle Meredith of 2014 attends Waynesburg University majoring in Psychology. Danielle is also on the Student Activities Board and Psychology Club.

Advice: It is ok to go into college without a plan. Your freshman year is the year for you to explore and see what you really want to. It is also ok to switch your major! Your adviser will be your best friend don't be scared to go to them with any questions they are there to help you.
Class of 2015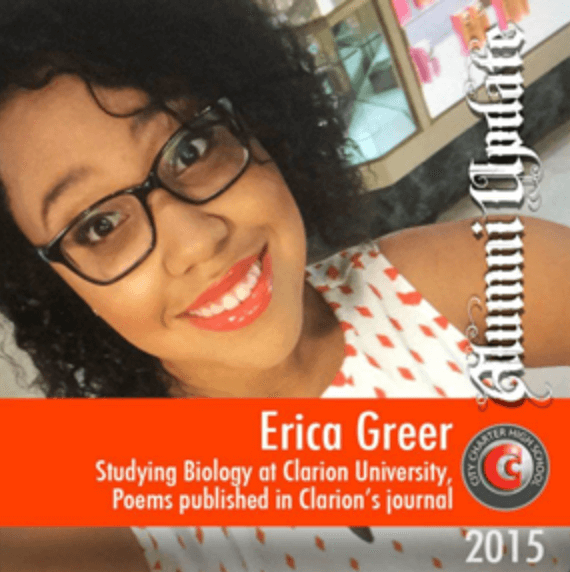 Published Author at Clarion University
Erica Greer, Class of 2015, is currently an undergraduate student at Clarion University studying Biology. Two of her poems were published in Clarion's journals and she was chosen to attend a writer's festival in Chautauqua, N.Y. She is also member of the Black Student Union.

Advice to current City High students: Work to build who you are as an individual now, stay focused, and aim to always do great things.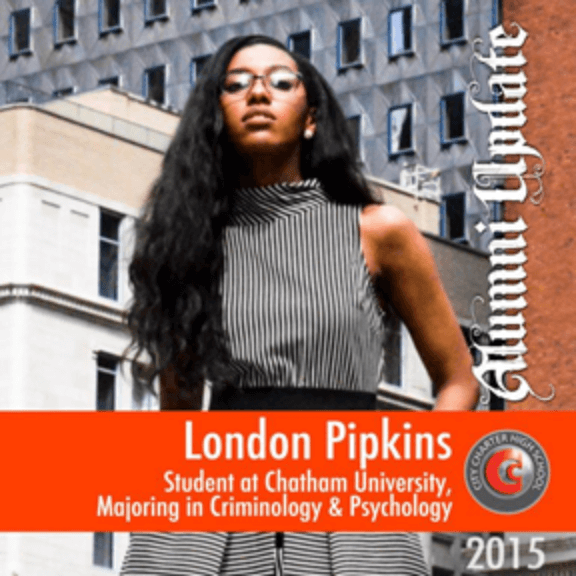 You Are Always a Representation of Your Institution on or off Campus
Alumna London Pipkins of 2015, majoring in Criminology & Psychology at Chatham University is an Ambassador with Admissions Office and a member of the Volleyball Team.

Advice: Manage your time wisely and seek help when you need it. Stay focused on their end goal and make sure that even in college, your actions speak volumes. You are always a representation of your institution whether on or off campus.
Class of 2016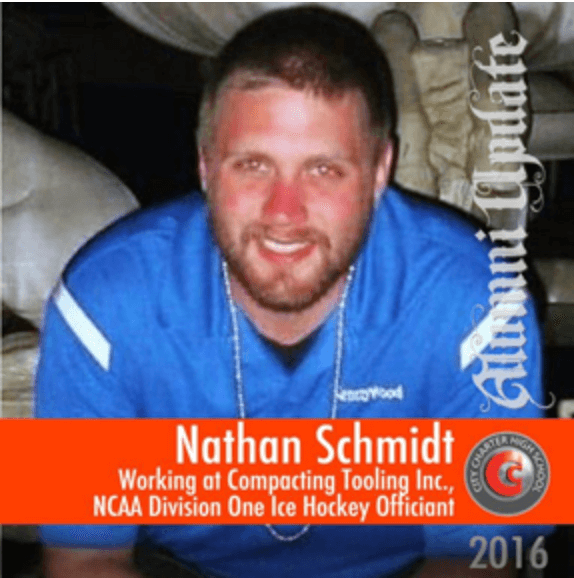 Following His Passion
Alumni Nathan Schmidt of 2016 is currently working for Compacting Tooling INC., and is also an on-ice official for Pittsburgh Ice Hockey Officiating, Atlantic Hockey and College Hockey America D1.

After high school Nathan went to Penn State Behrend for Engineering but left before graduating to attend an apprenticeship program for Ironworkers and later became an official for NCAA Division 1 Ice Hockey. He hopes to be an official for professional hockey

Advice: Try your best to learn everything you can. Apply yourself and you will be rewarded. You can be successful even without going to college. #Alumni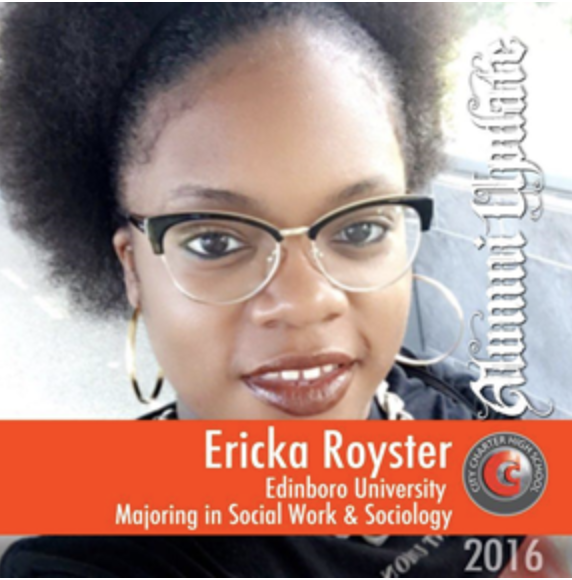 Majoring in Social Work and Sociology
Alumna Ericka Royster of 2016 is now attending Edinboro University, majoring in Social Work and Sociology. Ericka is also president of the Black Student Union Association and is working as a private caregiver for a senior care center.

Advice: Choose WHO you want to be after high school. Live life to the fullest while being accountable for your own actions. After high school, your life will take paths and roads you never thought possible, never give up.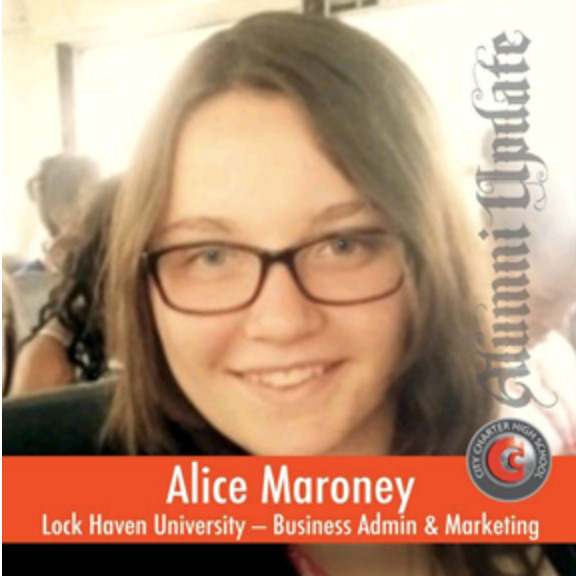 Majoring in Business Administration & Marketing
Alumna Alice Maroney of 2016, Student at Lock Haven University, majoring in Business Administration and Marketing with a minor in Environmental Studies. Alice is also involved in the LHU Women's rugby team, Woman's Student Union, and Environmental Club

Advice: Choose a college you like not one someone else likes for you. You also should not base your choice off of where your friends are going. #Alumni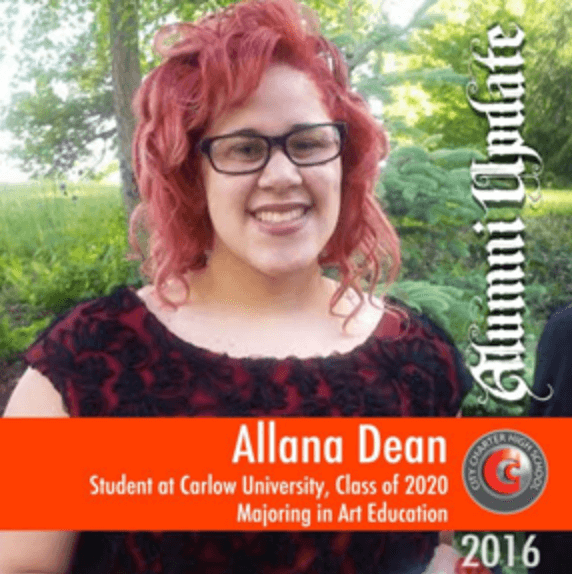 Art Education Major at Carlow University
Alumna Allana Dean of 2016 attends Carlow University for Art Education and is a member of the Theater and Dance Club.

Advice: Don't stress too much on figuring out what you want to do. Try new things, and stick with what you enjoy.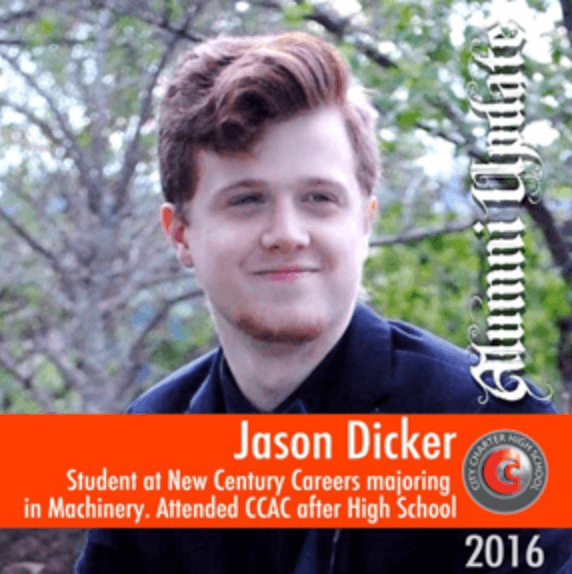 Attending New Century Careers for Machining
Alumnus Jason Dicker of 2016 is currently pursuing an education in Machining after attending Community College of Allegheny College.

Advice: Focus on Career Class and Research Class because they're really helpful.
Class of 2017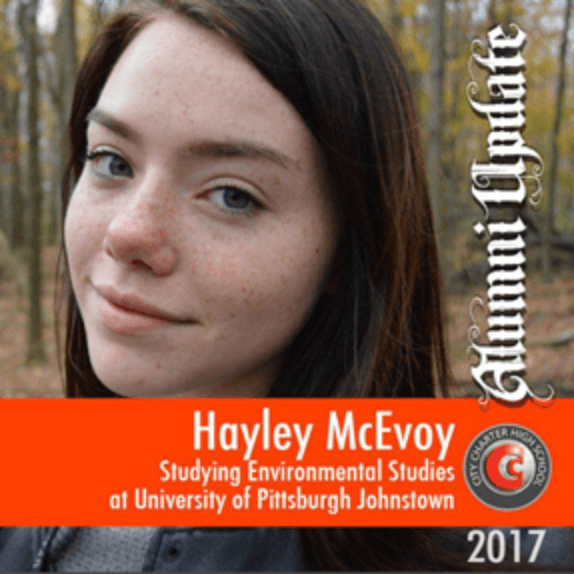 University of Pittsburgh
Hayley McEvoy of 2017 attends the University of Pittsburgh Johnstown for Environmental Studies. She is a recipient of the City High scholarship for $5,000.

Advice to current City High students: Work to build who you are as an individual now, stay focused, and aim to always do great.