Family Involvement Opportunities
Here's How You Can Be Involved!
Trimester 1

Title 1 Parent Meeting
Fall Conferences
Family Literacy Night

Trimester 2

Family Arts Night
Winter Conferences

Trimester 3

Performance Night
Graduation

Throughout the Year
Online
---
Share Your City High Story!
If you have had a positive experience with City High, we encourage you to share the news with other prospective families by submitting out a positive review on
Google
. These reviews go a long with in communicating our success with the public. The direct link is
Bit.ly/CityHighGoogleReview
.
Click on
Write a review
in the upper right column. We appreciate all of your feedback!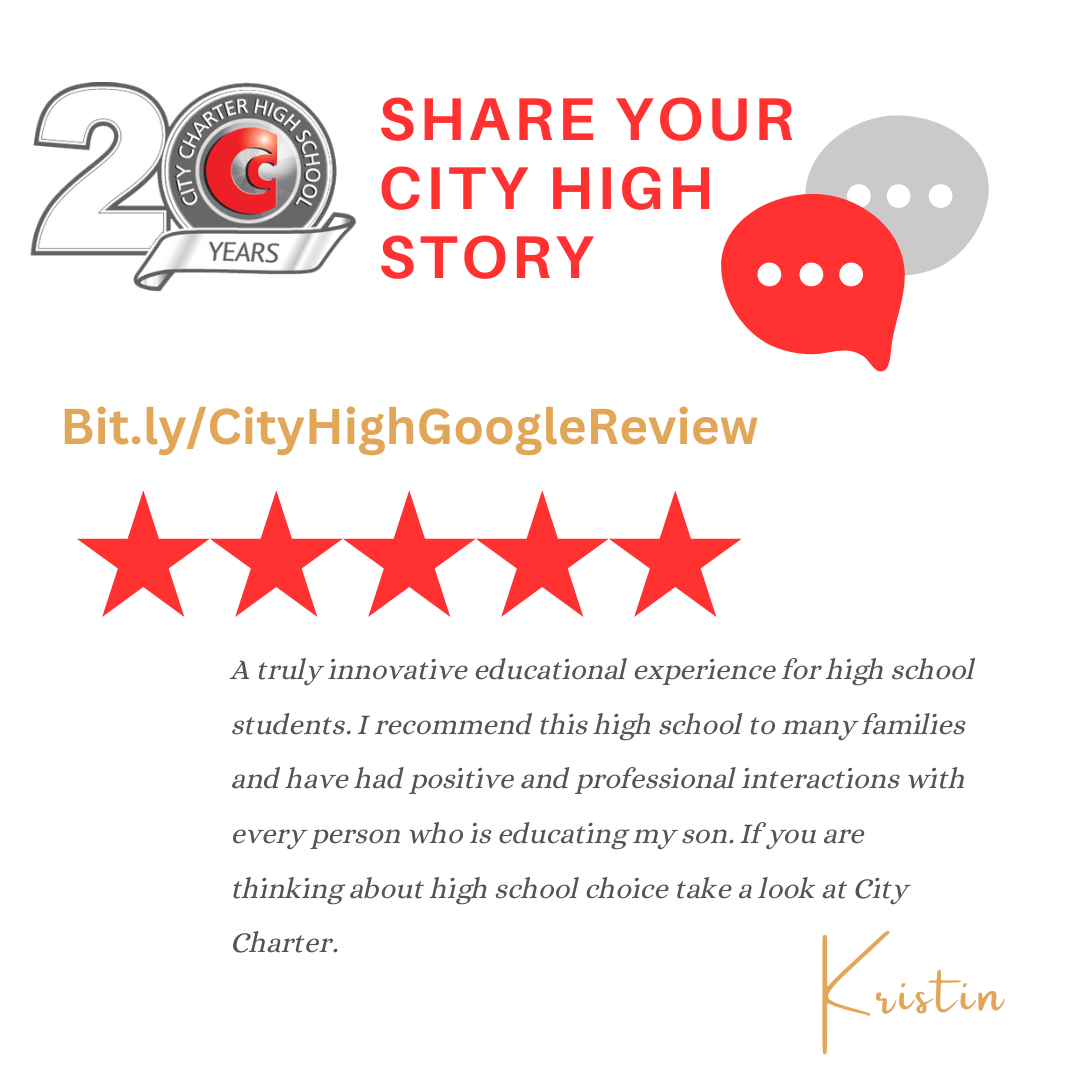 Mailing & Newsletters
CITY HIGH WEEKLY ANNOUNCEMENTS
Trimester 1 - Week 2
CityHigh.org | Calendar | School Store | Facebook Parents & Families | Extracurricular Opportunities
SCHOOL ANNOUNCEMENTS
Title I Parent Meeting: We are inviting parents to our Fall Title I Parent Meeting on Monday, September 25th from 3-4 pm. We will share

information about our security system, revamped field trips, new 4PLUS Monday events, and our brand-new student information system, Synergy

. If you are interested in attending, please get in touch with watson-smith@cityhigh.org or register online at https://www.cityhigh.org/events/parent-title-one-meeting.
Support City High's Caring Closet! Help us restock our Caring Closet, a space we created where students can visit on their own as needed to "shop" for supplies such as deodorant, shampoo, conditioner, toothbrushes, and toothpaste. If you are able to help, please visit our Amazon wishlist.
Field Trips: Grades 9-11 will be embarking on their outdoor field trips over the next few weeks. If you have questions, please contact your student's advisor or Ms. Ciocco at ciocco@cityhigh.org.

9/27: 10th Grade Field Trip - Camp Kon-o-Kwee

10/4: 9th Grade Field Trip - Camp Kon-o-Kwee

10/13: 11th Grade Field Trip - Ohiopyle

4PLUS Monday Activities for 9/25:
World's Finest Chocolate Fundraiser Update: This fundraiser has been moved to the month of October. Candy Bars will be distributed to students beginning Tuesday, October 3, 2023. More details to follow!
Parent Conferences are coming soon! Look for a mailing next week with information about parent conferences. They will be held on

Monday, October 9th.

City High Open House for Prospective Students is October 14th!: On October 14th, we will open our doors to prospective students and families between 10 am and Noon. Please share with any friends or family with 8th-grade students interested in joining the City High community. They can register online at CityHigh.org/Open-House. If you have siblings in the 8th grade, you can submit an application online starting October 1.
GOOD NEWS
Lost & Found in Translation: Global Travel Scholars: This past summer, City High 12th-grade student Justin W. traveled to Italy with the

World Affairs Council Global Travel Scholars program.

Justin and the other student travelers will be sharing stories of their travels on stage at the City of Asylum's International Literature Festival on October 3 at 6PM! Tickets are free and the event will also be live-streamed. Congratulations to Justin and all of the other students who were able to experience this educational opportunity of a lifetime!
UPCOMING DATES
9/25: 4PLUS Monday / Title I Parent Meeting

9/27: 10th Grade Field Trip - Camp Kon-o-Kwee

10/3: Chocolate Fundraiser Begins

10/4: 9th Grade Field Trip - Camp Kon-o-Kwee

10/9: Parent Conferences

10/13: 11th Grade Field Trip - Ohiopyle

10/14: Fall Open House
Questions about these announcements? Email your grade-level principal or info@cityhigh.org.
Check out the weekly announcements