There's No Place Quite like City High
City Charter High School is a technology-based, college- and career-focused public charter school. It's a completely unique high school concept that uses innovative best practices to keep kids engaged and learning so that they graduate prepared for whatever life has in store for them.

Our unique educational model ensures that:
Our students are prepared for the real world
Our students are collaborators who can work in groups and also independently
Our students are safe and engaged through personalized teaching and strong relationships
Our students are tech-savvy and media-literate

What's Different about City High?
What to
look for:

Why this matters:

Business casual dress code

Builds buy-in to seriousness of school and connection to the future. Students are part of downtown community and prepared to go out on internships and site visits.

Laptops used as routine learning tool

Largely paperless environment helps students stay organized and prepares them for the modern workplace. Wireless internet allows fast access to information resources, assignments, and grades.

Students working in groups

Project-based learning builds planning, teamwork, and communication skills highly valued by employers.

Teacher planning time and common work space

Faculty teach 2 of 3 blocks, leaving them 2.5 hours during the school day for planning, curriculum development, and team collaboration. Teacher professionalism and collaboration is fostered by grade level office space rather than leaving teachers isolated in their classrooms.

Grade level community by floor

All grade level classes are on a single floor and students and teachers stay together for four years. This facilitates ownership of the floor and close relationships.

Interdisciplinary subject blocks

Linked subjects (for example, English and Social Studies) are team-taught in 2 hour blocks, allowing interdisciplinary exploration of concepts, flexible student grouping, and time for students to engage in project based work.

Mixed ability classes

There is no academic tracking at City High. Students of all entering ability levels experience the same rigorous, standards-based curriculum with modifications to access content at various levels.
Year-round Learning & 4PLUS Schedule
In order to model the professional world of work, City High uses a unique trimester school year with month-long Winter, Spring & Summer breaks. Our students grow to love these well-placed breaks from class. This schedule minimizes learning loss and keeps students engaged in their studies throughout the year.
4

PLUS

Schedule Tuesday-Friday
(P
ersonalized

L

earning

for

U

niversal

S

uccess

)

Our full-time four day schedule enables us to enhance a holistic approach to serving students while maintaining the core elements of our school that contribute to our success at growing individual students as learners.
How does

4

PLUS
work?
Students will attend school in-person 4 days per week, Tuesday-Friday. The schedule is 8:00 a.m. to 3:40 p.m. (classes end at 3:45 p.m. for 9th graders).
Personalized Mondays – no scheduled classes
On alternating Mondays students can choose to personalize their experience through a variety of optional activities and opportunities in the school building. They can:

Catch up on previous assignments
Schedule 1:1 help from a teacher
Receive peer tutoring
Participate in service learning and volunteer opportunities
Extend their internship hours (11th/12th graders)
Work a part-time job
Participate in local field experiences, outings around town, and City High sponsored activities
Attend wellness meetings or appointments
Teacher Looping
City High teachers "loop" with the same students over all 4 years, allowing personal connections to develop between teachers, students and families. This more personalized approach allows teachers to adapt their teaching style to each individual student, making sure they stay engaged and can achieve to the best of their ability. The City High experience culminates in our unique senior model – an opportunity for students to demonstrate their independent learning skills and readiness for life after high school.

In addition to looping students and teachers together all four years, we place each grade level classes on a single floor. This facilitates ownership of the floor and builds close relationships needed for project-based learning. As students work in groups, it helps them learn planning, teamwork, and communication skills highly valued by employers.

Learn more about Looping - Best Practices
Personal Mentor/Advisor
Each student has a personal Mentor/Advisor whose goal is the realization of the potential of every child on every level – intellectual, social, emotional, and physical. This may mean regular, small group discussions or one-on-one meetings to address a student's future plans. Our mentors are there for constant contact with parents about grades and other issues that may impact learning. Additionally, City High has three full-time mental health professionals available for students.
Professional Attire & Workforce Readiness
City High prepares students for life after high school. One important aspect of this is the standard of professional and appropriate dress. City High students are expected to present themselves in business casual dress. This standard is important as it builds buy-in to the seriousness of school and connection to the future. Our prefessional dress code also reinforces that our students are part of the Downtown community and should be prepared to go out on internships, site visits or other field experiences. Students also take required Career classes that teach time-management, collaboration and professional work ethic, which culminate in a 13-week Mentored Internship experience.

Learn More About Our Internship Program

Learn more about Workforce Literacy - Best Practices

Senior Model
The City High experience culminates in our one-of-a-kind senior model, which is an opportunity for students to demonstrate their independent learning skills and readiness for life after high school. There is a separate wing for seniors, complete with private study workstations. Individual student schedules are unique to each student, and include small discussion-based seminars, lectures, peer study groups and independent work time.

Seniors still have the support network the school offers, but they are expected to spend more time working independently and taking ownership of their own schedule.
Technology-Infused Curriculum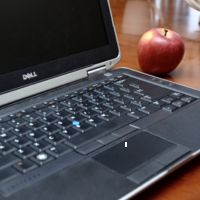 Technology was a founding principle at City Charter High School. We recognized early on, the importance of emerging technology as a learning tool as well as a vital skill for the modern workplace. So we make sure that in addition to FREE* laptops, our students have mandatory computer classes and get software skills training, tech support and certifications to prepare them for their future.

Core and Expert Microsoft Office Specialist Certifications (MOS*) in Microsoft Word, Excel, Powerpoint, Access, and Outlook.

Adobe Certified Associate (ACA) Program, offering the following Adobe product certifications Adobe Dreamweaver, Adobe Photoshop, Adobe Premiere, Adobe Illustrator, Adobe Flash Professional and Adobe InDesign.

Learn why technology is essential to learning - Best Practices