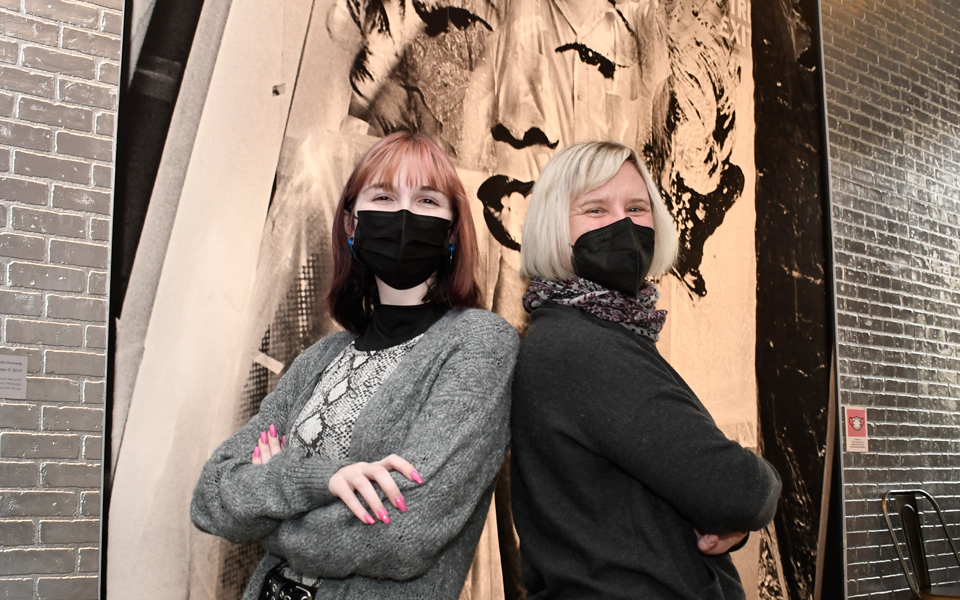 City High's Raine Venturino (left) with Nicole Dezelon, Mentor and Director of Learning and Public Engagement for The Warhol Museum.
---
Hailing from Sto-Rox School District, Raine Venturino learned about City High from friends and decided to take a closer look. That look changed her life and resulted in a high school experience she could never have imagined: like a 4.08 GPA, performing in the school musical in her freshman year and becoming president of the National Honor Society.
But what happens when a high-achiever like this wants a career in art?
Before City High, Raine admits, "I thought that I would become a tattoo artist." However, two elements of her high school experience changed all that. First, she participated in LEAP, a pilot program at Carnegie Mellon where students from around Pittsburgh learn from faculty as well as community artists and activists.

"LEAP opened doors and my horizons. I learned how building networks and having a community in art is very important," says Raine, who wants to study art history and art education in college. "They showed me how it is possible to have a successful career in art, history and the humanities."
If that wasn't enough, her internship at The Andy Warhol Museum sealed the deal. Raine was always passionate about art but she always felt it was not a possible line of work. After her 13-week internship at The Warhol, she felt more confident about art as a career, especially encountering people earning a living and loving their craft.

"I learned that art can be a career. I was always told that you really can't get anywhere in things like that… but now I feel stronger about going down the art path… with an art degree, you can still be in places like museums…and involve yourself with that community."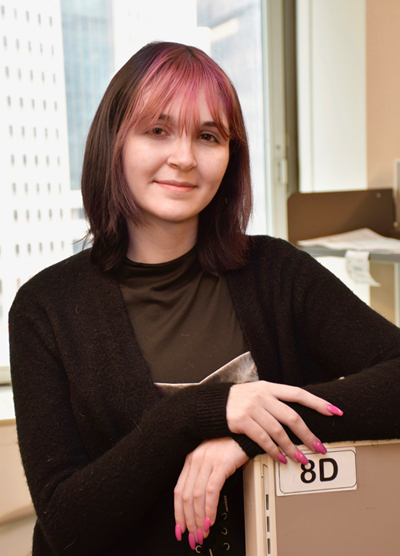 This is why The Warhol was a perfect place to try out an art career. Her internship was spent mostly in the department of education, which reaches out to schools, hosting tours of the museum and activities in The Factory. She shadowed various mentors, picking up insights along the way, especially in developing youth education programs. While in The Factory, the museum's hands-on art-making studio, Raine learned a lot of useful skills. "In the first few weeks, I was taught how to do screen printing, how to guide somebody through the process, and I began doing it myself, including creating my own designs that people could screen print."

"As an intern, Raine got to see [things] from the inside," says Nicole Dezelon, Director of Learning and Public Engagement for The Warhol. "What does it look like to plan it, to prepare, to teach it? How to ask questions that would keep kids engaged…and work with different age groups. I think that's one thing that's valuable in our internships."

She admits, "Sometimes, It's really hard to work with your own age group. [But this is a valuable skill]…working with kids your own age, taking a leadership role or a mentor role, teaching them something that you know that they may not."

Before starting her internship, Raine's had already dabbled in part-time work at The Warhol, so a structured, mentored program would be a true asset. According to Dezelon, "A lot of times we will create new gallery activities and studio activities around the current exhibition, so she researched the artist before the opening and created related activities."


City High's Raine Venturino (left) with with Warren Mayer, Mentor and Artist Educator at The Warhol Museum.
---
For Dezelon and co-mentor Heather White, Raine's willingness to jump in on anything without much direction or reason why, was amazing and exactly what was needed,
"Especially in times of high stress and high production action and high program delivery."
The internship allowed Raine to build better communication skills and confidence so that she could initiate conversations, ask what she could do next, and request feedback at the end of the day.
"The trust I gained allowed me to ask questions… that is very important."
Her mentors agree,
"Soft skills are just as important as hard skills. You kinda need both for it to work in life."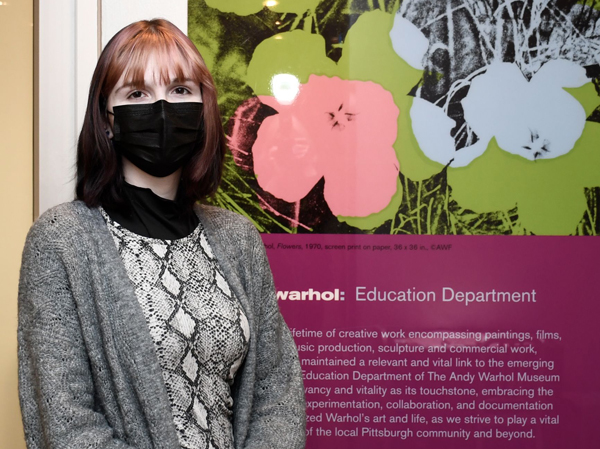 So, as she heads off for an art degree from Chatham, Edinboro, Temple, or Swarthmore, Raine Venturino will always treasure her internship experience.
"The joy was being able to see people working with art and being able to be in an environment where art is literally everywhere… this was something that was very exciting to me and a nice opportunity."
"I found a love for working in museums and just being in museums … constantly learning, being educated in history and things like that… add to that, the creative side, where I'm constantly working with art and developing techniques…. I envision myself continuing to work in museums, no matter where or how, that's what I want to do."