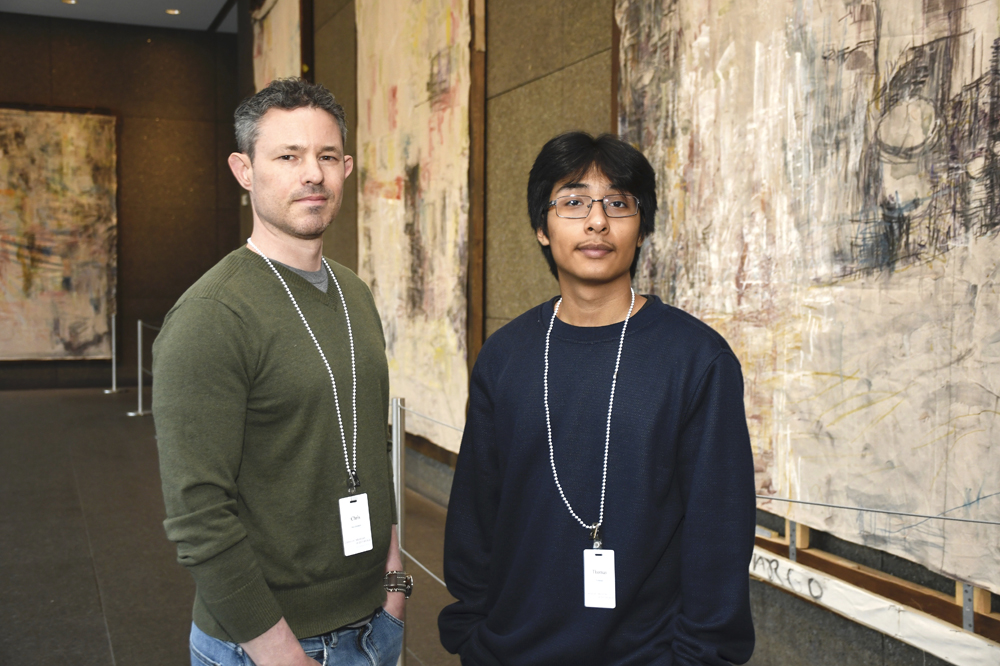 Mentor Chris Fleisher [left] offered this insight, "I don't know if Thomas [right] is interested in going into journalism, but I think it offers just good critical-thinking skills and writing skills that anybody should experience."
---
Carnegie Magazine was originally published in April 1927 as The Bulletin of the Carnegie Institute, a monthly report on the collections of the Carnegie Institute, the Carnegie Institute of Technology and the Carnegie Library.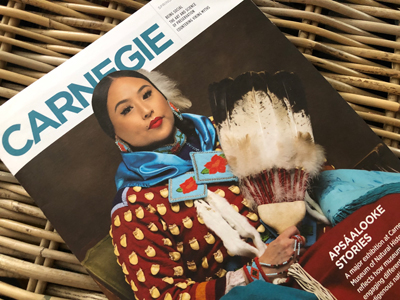 According to its first issue, the magazine set as its objective "to disseminate among the people of Pittsburgh and among friends living elsewhere such items of information related to The Institute and of its associated enterprises…as may be of common interest." Over the years, this publication has grown into reporting behind the scenes on all four distinctive museums that now form the Carnegie Museums of Pittsburgh: Carnegie Museum of Art, Carnegie Museum of Natural History, and the more recent Carnegie Science Center and The Andy Warhol Museum.
Current editor of Carnegie Magazine and associate director of publications, Chris Fleisher is one of the newest internship partners with City Charter High School, sharing his considerable talents as a journalism professional, teacher and mentor. Most recently, Mr. Fleisher and his colleague Ashley Brandolph, Volunteer Coordinator at Carnegie Museums of Art and Natural History stepped up to provide an eleventh-hour internship opportunity for one of City High's aspiring writers, Thomas Sedano. The Carnegie Museums of Pittsburgh are one of City High's best and earliest supporters, partnering in the mentoring of our students through educational internships.
According to City High's Internship Manager Patti Kretschman, "Due to the writers' strike at the Pittsburgh Post-Gazette, we had to quickly find a replacement internship for Thomas. The Carnegie Museums of Pittsburgh came to the rescue and came through big! They created a first-time, never-offered-before internship program within Carnegie Magazine."

Carnegie Magazine's Chris Fleisher says, "I had been envisioning an internship where someone could contribute to the magazine and kind of put them through a little mini-course in journalism and how it works."
"I didn't want us to have an intern shuffling papers around and doing transcriptions for me. I really wanted him to get some skills and find out if this is something he likes doing. And to learn."

Over his 13-week internship, Thomas learned the basics of editing, proofing and fact-checking, as well as key elements of style. "I was able to learn how they create stories, first of all, and what they look into for creating stories. They pinpoint a specific thing and then make a story out of that." This was one of Chris Fleisher's main goals for Thomas, "…get him thinking like a reporter… you go in there and you've got to come out with something, so you have to ask constructive questions, find something that interests you."