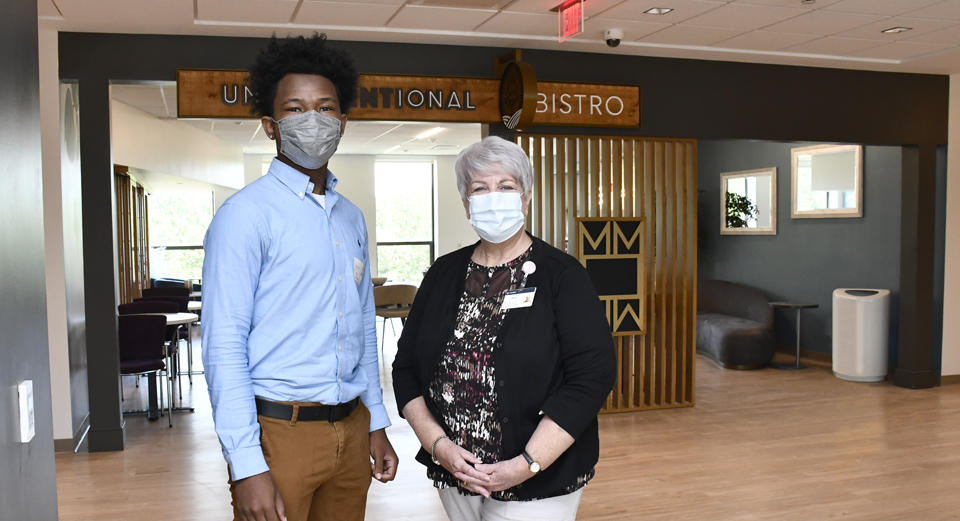 From L to R: Brandon Mason and Aimi Long, Life Enrichment Director/Volunteer Coordinator at Vincentian Marian Manor
---
Funny how one thing leads to another. When Brandon Mason joined City High, he was into sports (baseball, basketball, football… even rowing), which led him to consider going into sports training or physical therapy as a career.

His City High internship led him to an elder care and senior living community with the hopes of learning more about physical therapy. There, he discovered more about his communication, initiative and leadership skills.

In the classroom, his academic talents and 3.46 GPA led him to the National Honor Society and the Carnegie Science Center's Mentors in the Making program where he became an inventor, creating a portable air-quality monitor to test various City neighborhoods.
Then, his financial literacy classes and IRP (Independent Research Project) at City High led him to create his own environmentally friendly cologne brand with a business plan to support it.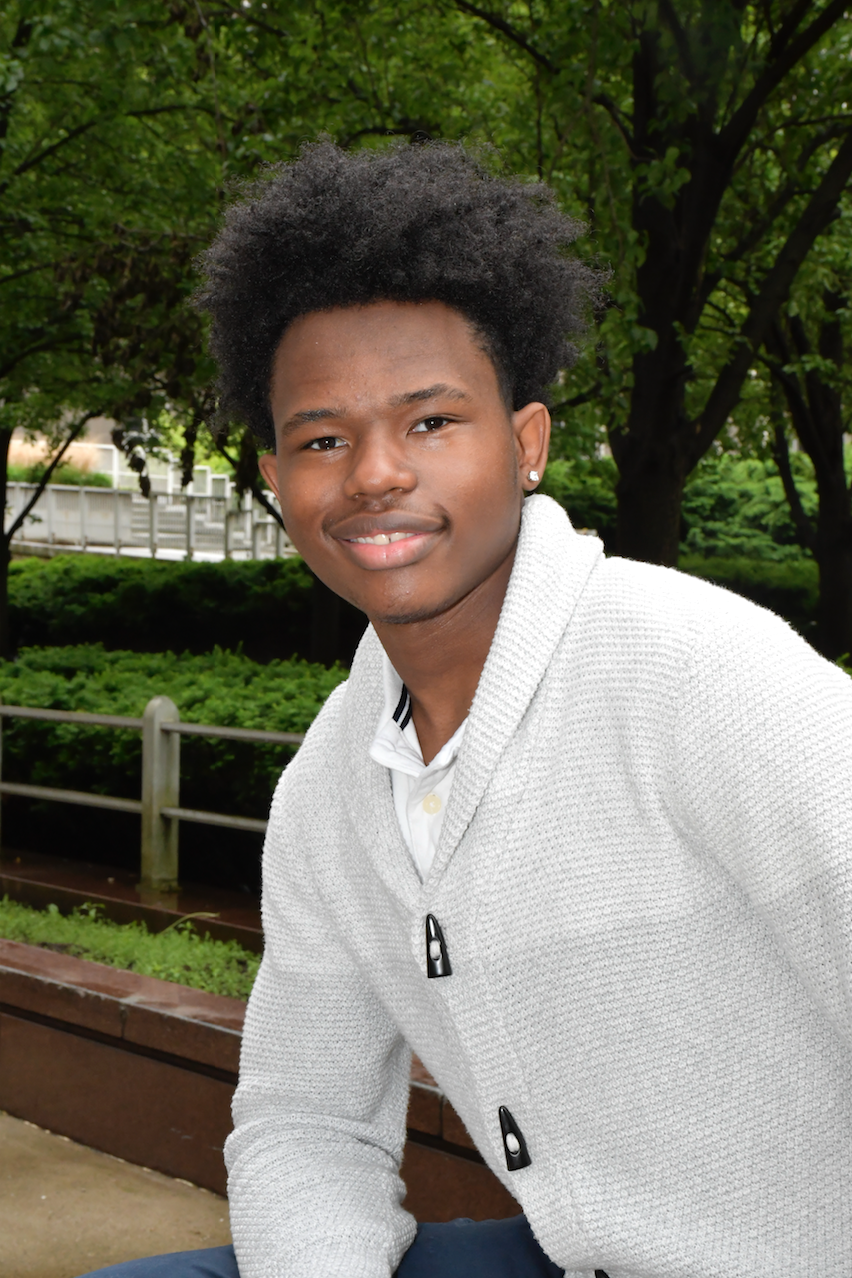 National Honor Society Member Brandon Mason heads to Slippery Rock in the Fall
All of these are just a warm up as Brandon heads off to Slippery Rock University to get an even stronger foundation in business so that he can harness his inventiveness and entrepreneurial spirit in developing ways to help people. Physical therapy was his original desire but, so many more doors have opened during his time at City High, he is now looking at exploring other things as well that will lead to even more opportunities to create products and help people.

"I like learning!" Brandon says confidently. "I love to learn new things. And City High tries to get you to learn things that help you throughout life. They give you resources to help you in the future… like internships… financial literacy… other schools don't have this. It's a great school."

After moving to Brighton Heights from Penn Hills, Brandon Mason might have gone to Perry High School. But after his mother told him about City High and they toured the school, he was intrigued. One thing he found appealing was the concept of looping. As he puts it, "…the way the teachers cycle with you… I really like that about this school. You don't have to learn new teachers each year, and the teachers don't have to learn you each year. If you don't like the teacher, you just have to grow with them and get along with them." Which, after all when you think about it, is good training for the workplace where you can't always choose who you are going to work with.

And speaking of work, Brandon's internship at Vincentian Marian Manor, a senior living community where he thought he might pick up some physical therapy training, gave him his first real work experience… and it was a real eye-opener. "I learned that you had to be on time, you had to have good communication skills and you had to use the resources around you to be a better employee." But in actuality, Brandon took away so much more.

You see, his internship was during the COVID pandemic. So, he had to have special infection-control and safety protocol training in addition to all the usual orientations in Safety, Health & Wellness, Company Policies, Residents' Care, and Residents' Rights that volunteers are normally required to go through.

The intern's duties were based on each student's skillsets, according to Aimi Long, his mentor at the Greentree senior living community. "We start with what their interests are, what their skills are. Then we build upon that, while we are teaching them more skills and more ways to interact with residents."

A number of residents have moderate to severe dementia. So part of the training is in communication skills: how to talk to, how to understand and how to engage someone with dementia. Ms. Long who is the Life Enrichment Director/Volunteer Coordinator at Vincentian Marian Manor recalls, "Brandon was especially handy with residents who needed a little extra help with engagement due to dementia to bring out the best in them and have the best experience possible."

For all interns, she adds, "…confidence builds as they are here, but it's remarkable how much confidence he came with. Which was wonderful. And it also helps the other volunteers. He became a peer mentor for other volunteers as they came in. We will pair up a new volunteer as they come in with a seasoned volunteer. Well, he came in almost at the level of a seasoned volunteer, which was remarkable."

As part of Ms. Long's Life Enrichment Team, Brandon had to be flexible, confident and demonstrate initiative. (Which are all great skills that any employer will look for as well.) And Brandon excelled in this 13-week program. He became an integral part of the team and could take on the responsibility for an activity on one level, freeing up someone else for another activity on a separate level. But perhaps compassion is the most important requirement. "I can teach anyone to do the tasks that he did." According to Ms. Long. "I cannot teach anyone the heart. And he came with the heart."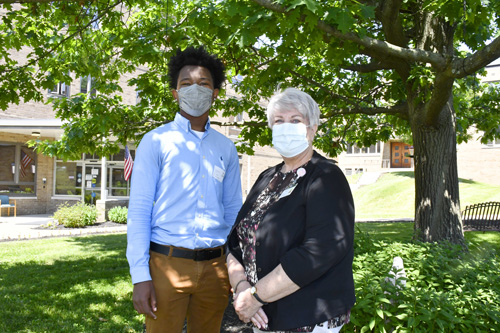 From L to R, Brandon Mason and Aimi Long, Life Enrichment Director/Volunteer Coordinator outside Vincentian Marian Manor in Greentree
There's a lot of work behind the scenes to make things fun for residents at a senior living community and Ms. Long felt Brandon learned plenty from the experience. "Even if he doesn't go into a field where he's working with the elders, at some point in his life he will be interacting with elders – whether it's family…neighbors…or coworkers – and what he has learned here, he will draw upon and use that to make their lives better and to understand them and to appreciate them. And that's what I saw in Brandon… He allowed the elders the opportunity to share their life story with him. He listened… and he felt… and he will take from that, so much that he will use the rest of his life. Which is why it's such a win-win for everybody."

As Brandon begins his college adventure at Slippery Rock, his will spend his first year exploring business and potentially fitness therapy. Should he continue down that PT route, he already has the skillset to motivate those in his care and would make an excellent therapist. But, if he pursues a broader, more entrepreneurial track, you can be sure his authentic desire to help people will take a different reality… and it can lead to just about anything.