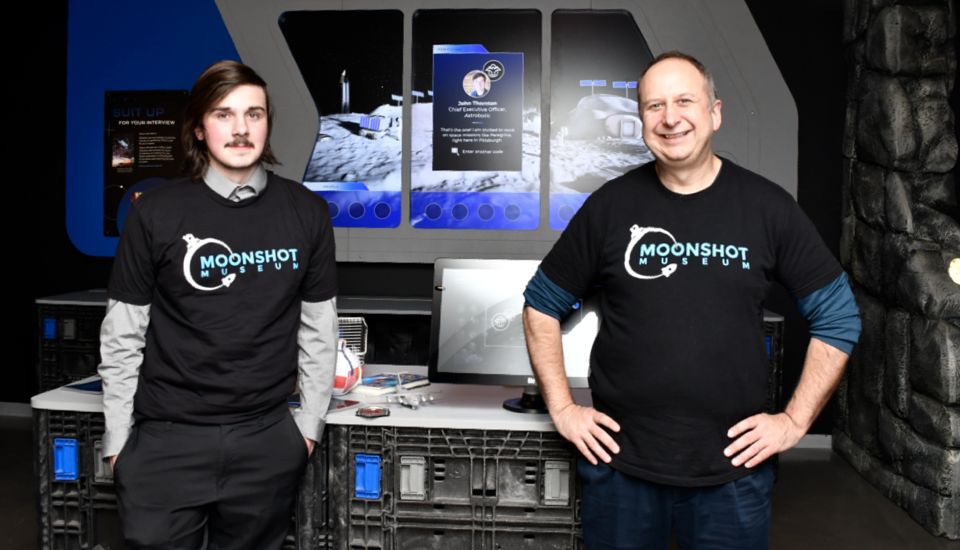 From L to R: City High Senior Chase Venturino with mentor Mike Hennessy Internship Partner from Moonshot Museum
---
Talk about an internship that's truly out of this world!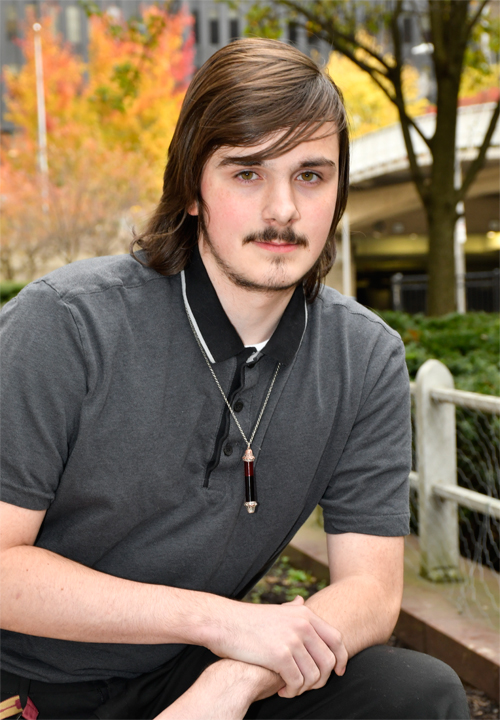 Space exploration had always fascinated
City High Senior Chase Venturino
. So when the opportunity came along to do his internship at a museum dedicated to the 21st century space industry, the Moon in particular, he was pretty stoked.
The only hitch? It didn't exist!
Not only was Chase the very first intern, but according to Mike Hennessy at Moonshot Museum,
"I was looking for someone who was willing to build the rocket ship while we're already flying it.
City High's Chase Venturino, a 4.02 GPA student from Sto-Rox, found he was up to the challenge with his strong skills in calculus and physics. The way he sees it, "They both kind of like make my brain think… use my problem-solving skills, which I like to use a lot."
His mentor agreed that Chase also had other skills that made him the ideal candidate. Mr. Hennessy was looking for an intern,
"…who was creative… someone who was collaborative… was really into teamwork… was patient… was willing to try and test things… someone I could bounce ideas off of back-and-forth. Chase was all of those things… and more."
In his 13-week internship, Chase helped design the experience of the museum by contributing a young perspective that would engage potential visitors to the museum. He helped brainstorm ideas, research all areas and contributed to the presentation. Much of his work, writing and research ended up as parts of the finished project.
A big piece of it was designing the exhibition itself, which required a lot of strategizing and researching in the formulation of the content. Research was key. According to Mr. Hennessy,
"Every single paragraph that you see on the wall in the museum that goes with a picture… every single picture you see… every bit of digital media… any question that visitors are asked or games they're playing… all of that had to be designed. And for every sentence you read, there are pages of research that had to go into choosing what stories we're telling and backing them up."
Chase's secret power? In addition to his natural problem-solving skills, his City High Information Literacy classes.
"We do heavy researching in our Information Literacy classes and our Grad project,"
he says. "That helped me be able to look for information websites that were reliable and not outdated or straight up scams. Using the rules learned from those classes helped me know what sites to go to and know which way to phrase things instead of just typing in something and hoping and scrolling forever."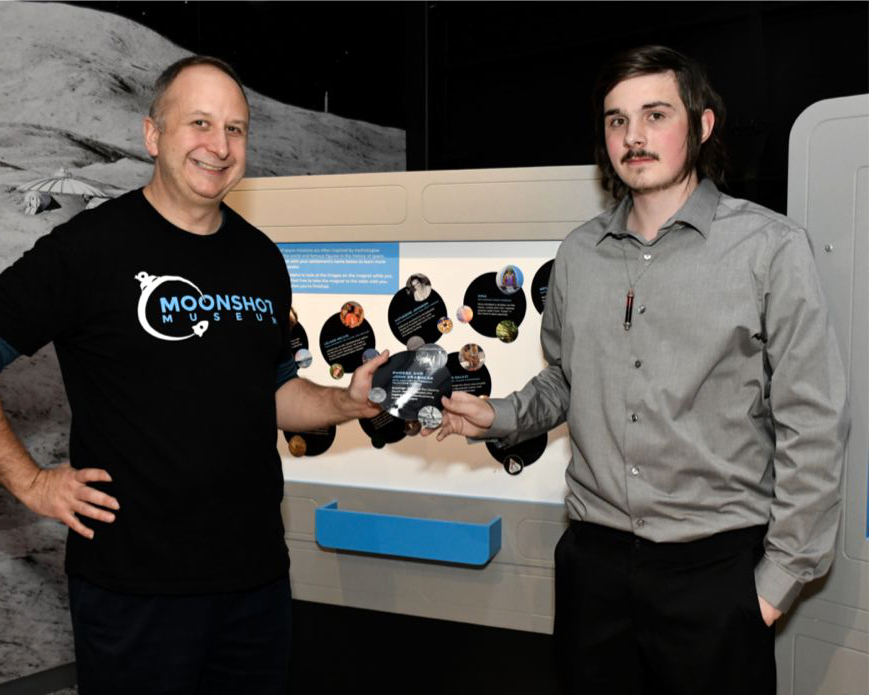 "What I love about the City High Internship Program is how intentional it is from start to finish – in matching someone with a place where they can explore their existing interests, and also expand their horizons to see what other career possibilities are out there."
-Mike Hennessy, Internship Partner from Moonshot Museum
---
As you walk through the museum today, which opened in October 2022, you will see plenty of evidence of Chase's work. "I didn't expect as much of my stuff to be basically everywhere…" he notes.
"Almost anywhere I looked in that museum, there was something that I did and I didn't fully expect that, to be honest."
His mentor agrees,
"Chase's work can be seen on text panels and touchscreens throughout the museum!"
Working closely with
Keiha Drummond, his internship manager,
Chase was able to find an opportunity that took advantage of his creative collaboration skills and his love of space, developing education installations and displays for a museum that had not yet even opened its doors to the public. For this role, he had to be a diligent independent researcher and demonstrate creative problem solving. Perhaps most important in the internship experience was the relationship Chase built with his mentor.
"He was supportive and we both trusted each other. I think that's the most important thing. I feel like my ideas were heard. My opinion was valuable to them because their target age range was teenagers. So they would often ask, 'Do you think this would keep people interacting with the museum?'"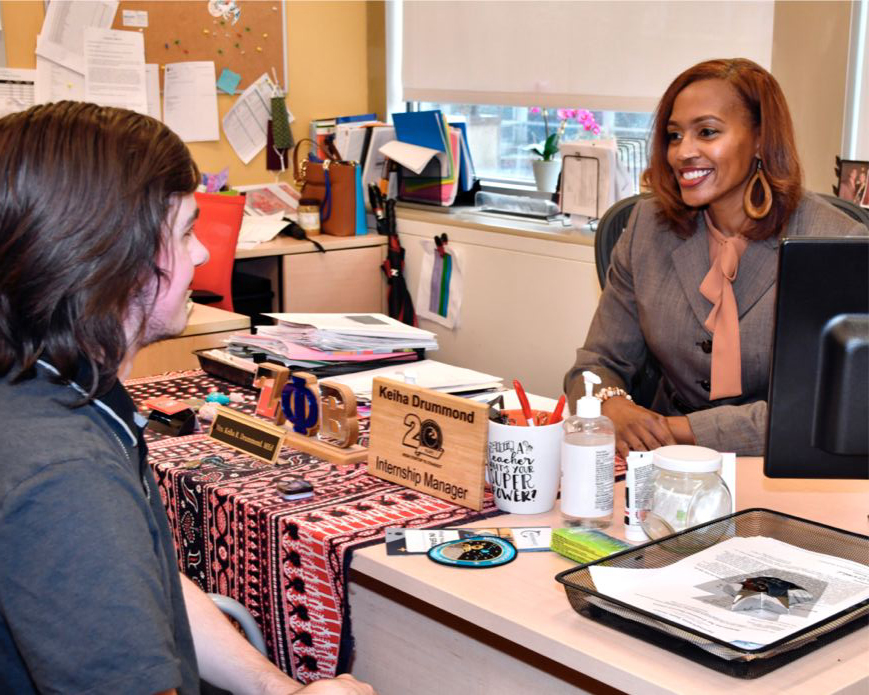 Chase Venturino checks in with his Internship Manager, Keiha Drummond. Together, they planned for his internship and interview with his site mentor, Mike Hennessy at Moonshot Museum. Periodically, updates would be provided along with an on-site visit to focus on Chase's progress.
---
So as Chase heads off to college (Pitt, Penn State and IUP are all in the mix) to major in one of the science fields, he takes amazing independent research and problem-solving skills with him. Not to mention an amazing and unique internship experience on his resume. But let's not forget the networking opportunities he's already made in the space industry with executives and board members at Moonshot Museum and its affiliate Astrobotic Technology.
And if a career in space is in his future plans,
"I am confident that Chase has the skills and the dedication to make a place for himself in the future of space!" Mr. Hennessy concludes.

# # #