Join us in our 20th Anniversary Celebrations!
Since its founding in 2002, City High has matured, developed, and created an innovative educational model that works and has stood the test of time. We're encouraged and proud that we've played a pivotal role in helping to change the educational landscape in Pittsburgh with our student-centered and teaming approach to education, proving that all students can achieve amazing things when their potential is nurtured and they are held to high expectations.
Now, a generation later, we have much to celebrate!
We are creating a bi-annual educational symposium to share our discoveries and best practices with educators from Pittsburgh and surrounding areas on July 11, 2022 and an anniversary event to celebrate our educational partners and major stakeholders on August 3, 2022.
---
20th Anniversary Celebration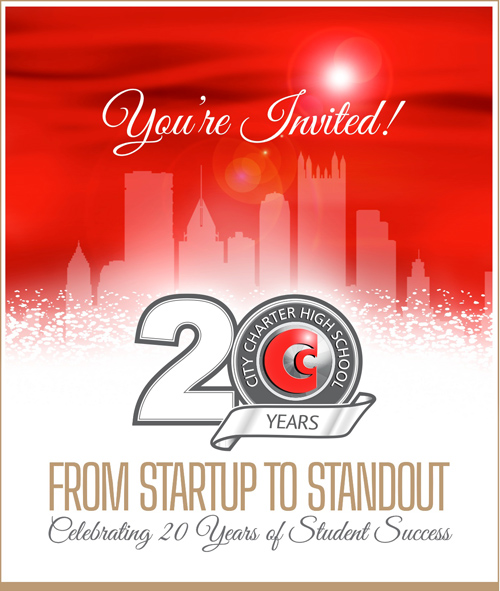 City High's accomplishments would not be possible without the support from individuals and organizations critical to its success: community partners, internship mentors, grantmakers, and local educators. Join us as we celebrate 20 years of educational innovation, honoring our distinguished alumni and community partners. The event will include a silent auction, student performances, awards ceremony and the world premiere of a short film highlighting City High's achievements, "Building Relationships".
Join us in our 20th Anniversary Celebration of a generation of student successes.
Pittsburgh Playhouse Point Park University
350 Forbes Avenue, Pittsburgh 15222
Wednesday, August 3, 2022 • 5:00 – 7:30 PM
RSVP LEARN MORE
Become one of our 20th Celebration Sponsor!
We are marking this milestone with an anniversary celebration for supporters and partners. Here are three ways you can help us make this possible:
Sponsor the anniversary celebration with a level and benefits package that's right for you.
Place an ad or congratulatory message in our printed event program.
Donate a silent auction item or experience. Proceeds will support youth programs.


Educators & Youth Serving Professionals!
City High's Summer Symposium: Nurturing Student Growth Through Innovation
Monday, July 11th • 8:30 am - 3:30 pm • ACT 48 Credits provided
Announcing Keynote Speaker - Dr. Valerie Kinloch
Renée and Richard Goldman Endowed Dean and Professor of the University of Pittsburgh School of Education
---
Join us for an interactive, hands-on professional development experience in a creative and high energy environment. Teacher and student panels will present an overview of the best practice and methodologies, tested and perfected by City High for the past 20 years. Break-out sessions will focus on the areas of Collaborative Partnerships, Next Generation Curriculum and Social and Emotional Learning. These sessions will be transferable to any educational setting.

The City High Summer Symposium is generously supported by the Claude Worthington Benedum Foundation.

Register Today! Learn More